Consumer Confidence is not enough
June resumed a new hope in the Japanese market after two months with the Coronavirus infections dampening consumer confidence, and according to Trading Economics, consumer morale was the strongest in 16 months.

Apparently, this might be the confirmation of the recovering path on the consumer confidence experienced during the first quarter of the year; however, not yet for retailers. Saying this, the consumer confidence index is still some 16 points lower compared to the neutral baseline. How much of such apparent enthusiasm can be converted into better retail prospects is still to be assessed.
Questions about its sustainability are more than evident. A recent Reuters poll (published in July 2021) showed a widespread doubt among the public about the ability of Olympic organizers to control COVID-19 infections. And a fresh State of Emergency in Tokyo to halt a rise in coronavirus infections is hurting the growth outlook.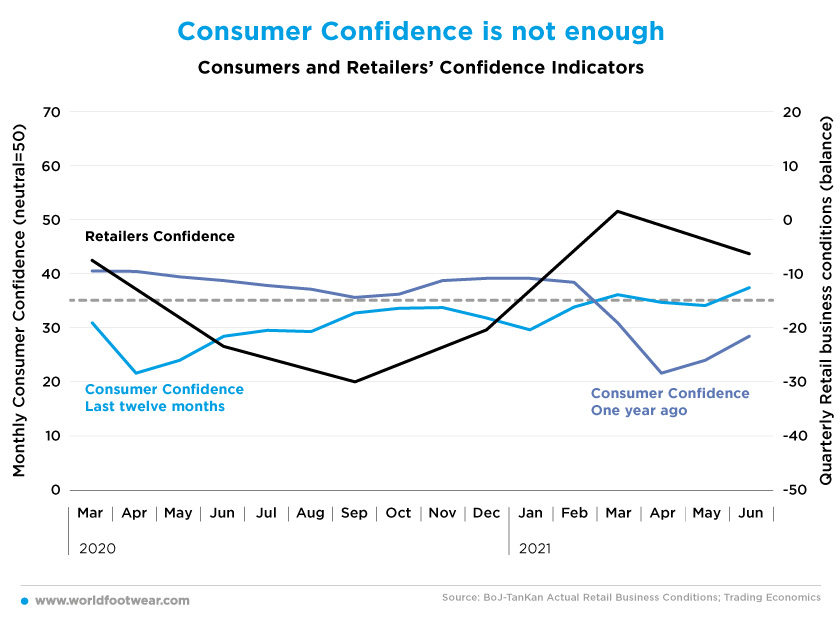 No Olympic medal for retail sales
The latest numbers of the Apparel & Accessories (including footwear) Retail Sales Index (not yet available for June), also suffered from less consumer confidence after March.
And "the data showed broader growth in retail sales, which was due to statistical base effects reflecting last year's slide. But compared to the previous month (April], retail sales fell 0.4% on a seasonally adjusted basis, in a sign spending by Japanese consumers was losing steam" Takeshi Minami, Chief Economist at Norinchukin Research Institute, said.

As for June, according to Reuters, Trade Ministry data still to be published is expected to show retail sales edged up by 0.2% year-on-year in June, slowing substantially from the previous month's sharp 8.3% gain.
Going a step forward Ankita Roy, Retail Analyst at GlobalData, commented: "The Tokyo Olympic and Paralympic Games would have been a perfect opportunity for Japan's retail industry to bounce back to the growth phase after a slowdown in 2020 due to the COVID-19 pandemic. Without international visitors [barred from the games] the recovery chance of the retail industry will definitely get affected, and the country will not be able to meet its retail growth target of 2.9% in 2021".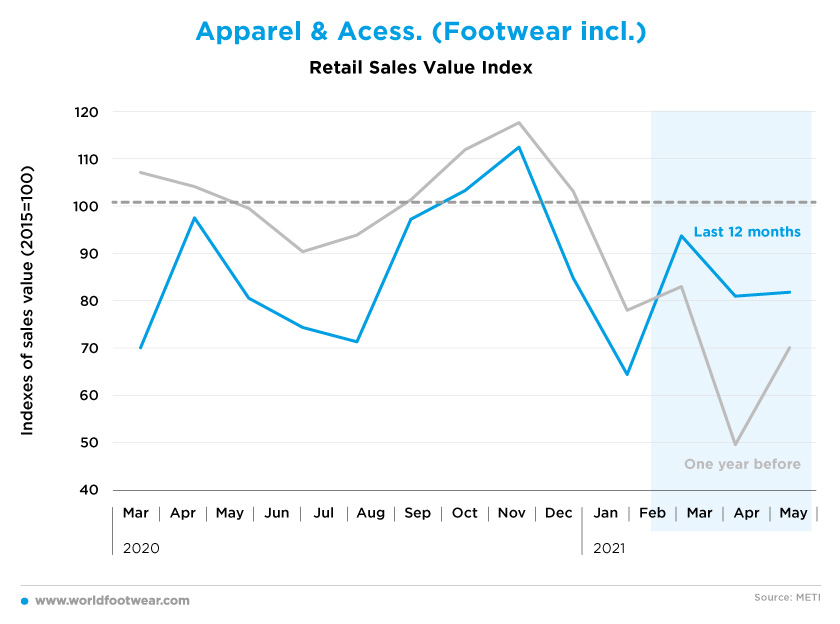 A cold shower for footwear importers
Sometimes actions speak louder than words. In a notice, Uniqlo said that "the store of Uniqlo in Shinsaibashi is scheduled to be closed on August 1st". While Uniqlo dismissed such claim, "the lack of tourists from China may have partially prompted Japanese casual fashion brand Uniqlo's plan to close and relocate a store in a main shopping area of Osaka next month", tourism industry practitioners said to Global Times (6th of July 2021), underscoring rising impact of the COVID-19 pandemic on foreign businesses that rely heavily on Chinese tourists.


As far as footwear is concerned, importers repeated in May the seasonal downwards pattern in Japan, though some 6 points better than a year before.

As retail in the category is supposed to have improved in June responding to better consumer confidence, imports could have converged to the pre-pandemic level (some 24 points down the baseline) or even more in order to anticipate the increased tourist shopping demand during the Olympic games.

With the cold shower of the ban of overseas spectators from attending the games, such boosting effect on retail will be absent and the peak of footwear imports in July will be less obvious.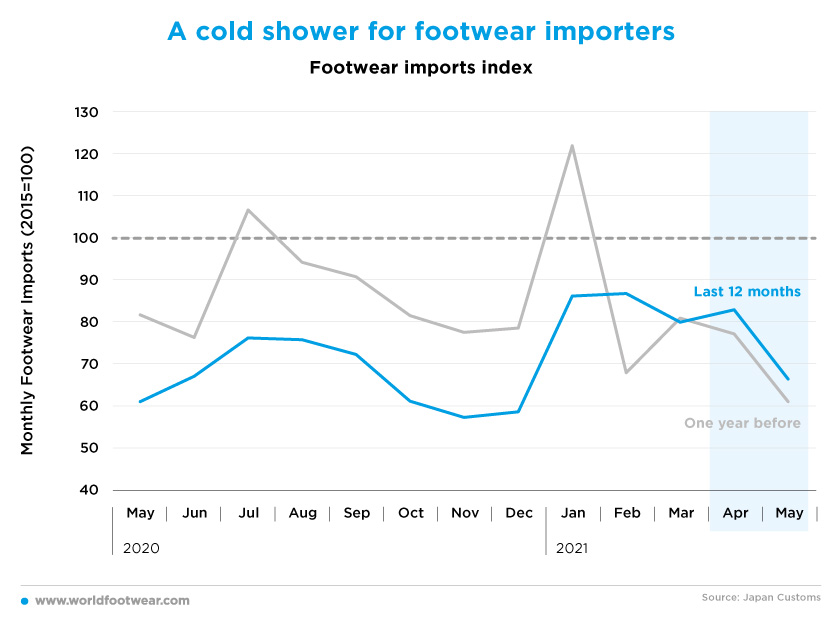 Losing both in prices and demand
Footwear consumer prices have been systematically lower in the first semester 2021 than a year before. The overall pandemic situation in Japan being also quite worse in the first semester of 2021 could explain some deflation despite the fact that retail numbers of the category in the second part of the semester exceeded the previous year.





Moreover, when demand is more sluggish a weaker yen makes it even more difficult for importers to pass on higher prices.




Should low prices and weak demand remain that will not be good news for the footwear retail in Japan.




"The pace of recovery will largely depend on developments of the coronavirus and vaccine rollout from now on," said Hiroshi Shiraishi, Senior Economist at BNP Paribas Securities (CNBC, 30th of June 2021).